Free Printable Student Assignment Planner Weekly
Hi everyone!  Did you survive the back to school craze with your sanity intact?  So far for us, the first week has been mixed.  Liam's school seems very chaotic right now, as the teachers are busy finishing up final class assignments.  Hopefully, they'll be in their new classes at the end of the day today.  On the other hand, our Teen's start of school has been smooth sailing, and yes, there were sniffles from me on the first day.  It's not everyday your little baby starts high school. (I think I'm still in a little bit of time shock)  Yesterday was his first full day of classes, and in typical high-school fashion, he came home with homework.  Which ties in perfectly with today's post.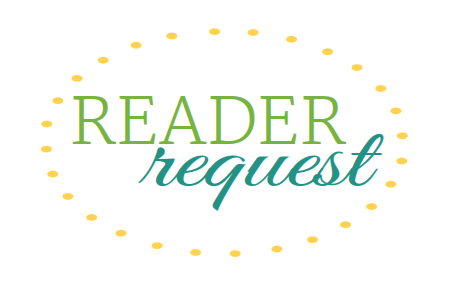 That's right, this one comes from one of you lovely readers.  You girls (and guys if there are any out there that read this little ole blog of mine) are the best, and being able to not just share printables with you, but to help you get the ones you want/need/have-spent-days-searching-for-but-couldn't-find-exactly-what-you-were-looking-for, totally makes my day.  The timing of this one couldn't be better either.  With the new school year swinging into action, those of you with middle. junior, and high school students know that homework could start getting a little crazy.  It's not just a matter of helping our kids get their homework done, but they need a way to remember what class assigned what and when it is due.   I know this craziness well, so when "L" asked me if I could make up a half-size planner for her daughter I jumped right in.
The idea was simple, spread a week out over two pages, so there is plenty of room to write.  Find a way to keep track of assignments and due dates, and try to fit in a little room for keep track of upcoming tests, and if possible a spot for a to do list or notes.  Add in some fun colors and some pretty fonts, and you've got a student planner!   I had so much fun working on this one, and then I decided to have even more fun and make two!  Here's the one I call the Girly One!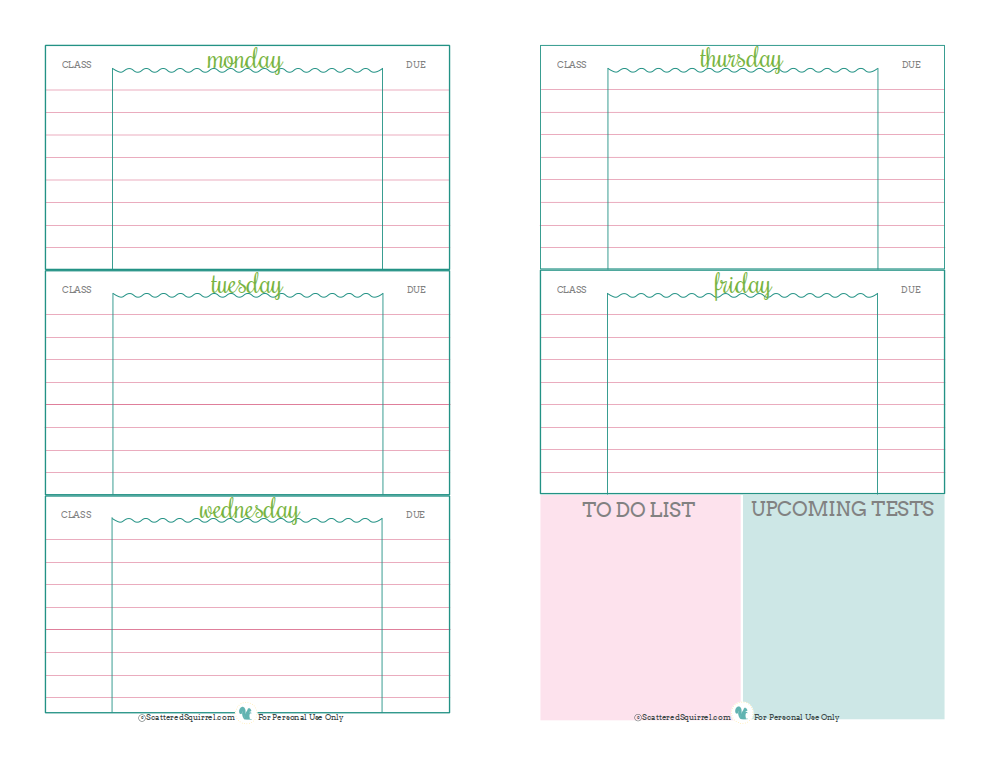 And here's the one that I call Boyish.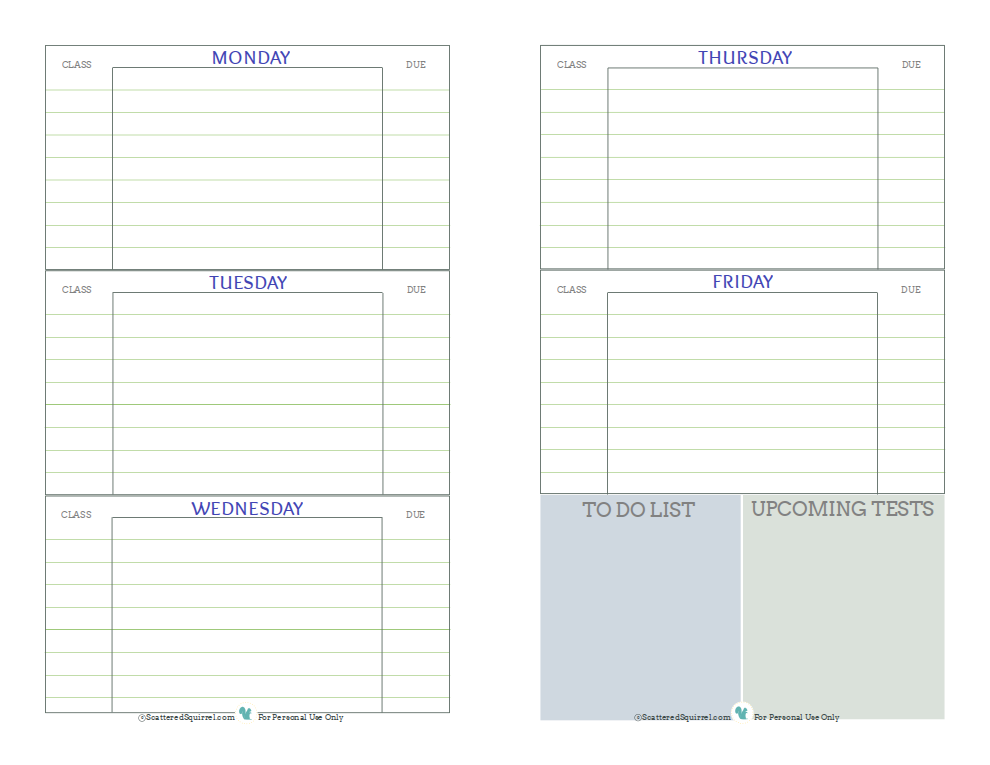 Like I said above, it's simple.  Each day there is space for jotting down the class, the assignment and the due date.  I opted to just do school days, so if anyone wants one with space for the weekend, let me know in the comments and I'll see what I can do.\
As always, these are here for you to download and enjoy, just simply click the photos.  Oh and don't forget that I'm offering Free Personalization for the Family Homecare Printable (see here) from now until September 30th, 2013.  So hop on over and fill out the form if you would like a copy of your own.
I know it's been a little while since I've done a Reader Request post, but stay tuned, because this monthly feature is coming back.  (and if I get in enough requests, it might end up being a twice monthly feature)
If you need more options be sure to check out this collection of Free Printable Student Planners.
What is your favorite tip for keeping homework organized?  Does your child use a planner?
I cannot believe that it's almost time to start getting ready for back to school season.  July is coming to a close and our summer vacation is almost half way over.  For many others I know that the first day of school is coming up much faster than that, so to help you get ready for the new school year I thought I would share with you some student planner printables.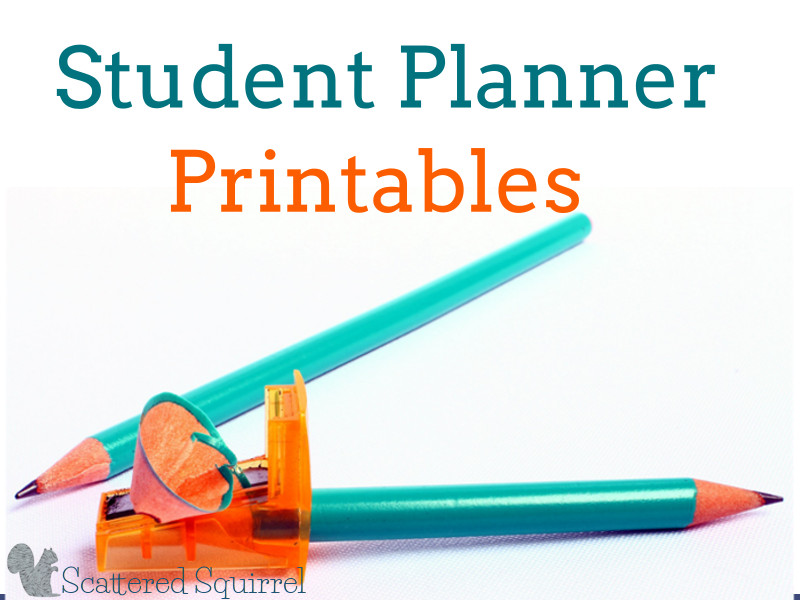 When I was in grade seven our school district started handing out planners to every student at the beginning of the year.  This was a very new concept at the time, and I know many parents scoffed at the idea that students needed planners.  Not my parents, my parents thought it was a great way to help students be more accountable for getting their school work done.  When I started Junior High the following year I found myself relying more and more on my planner to keep all my homework straight.
It now seems hit-or-miss whether school districts handout planners or even include them on school supply lists, but I do believe that a good student planner is a tool that will help our children during their education journey.  So, today I would like to share with you updated versions of my student planner printables.
Student Planner Printables
A few years ago, I shared the two student planners pictured below as a Reader Request feature.  I still really like them, but for students who have a lot of homework, there is not much room to write.  So I decided that a full-size version would be the best solution.


Full-Size Weekly Student Planner
I toyed with changing the layout, but I wasn't sure what else was really needed in a planner.  If you make them too complicated, they won't get used.  No-one, especially busy students, want the hassle of trying to keep track of too many things.
Keep it simple is the name of the game.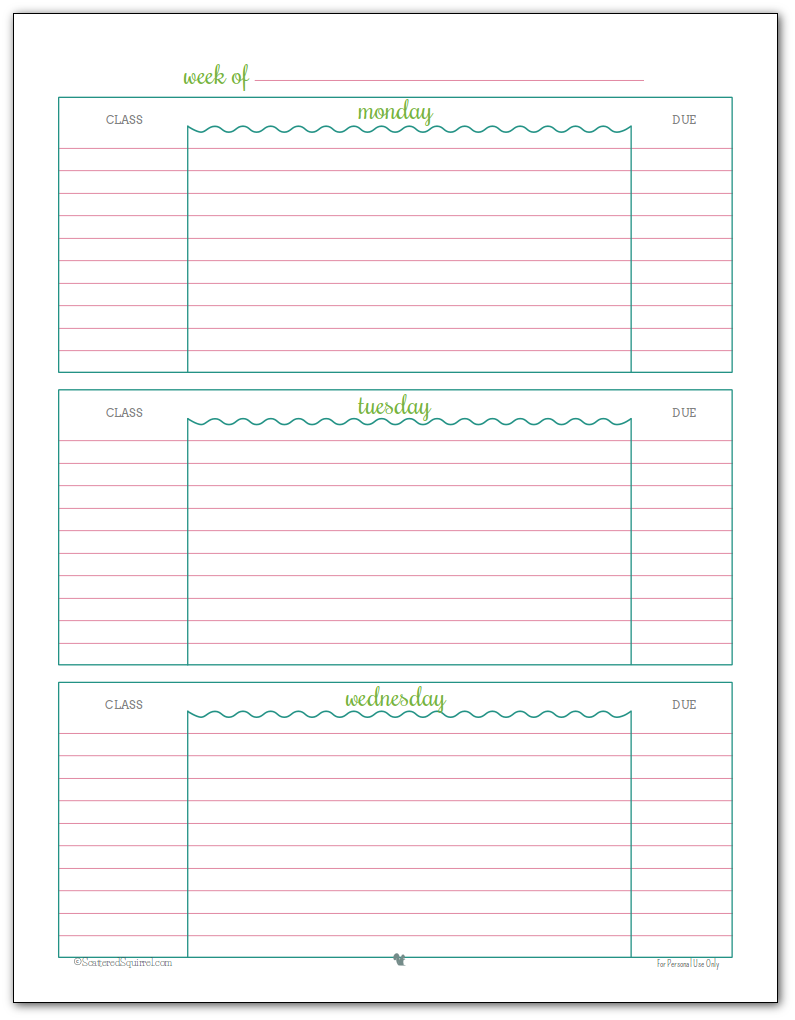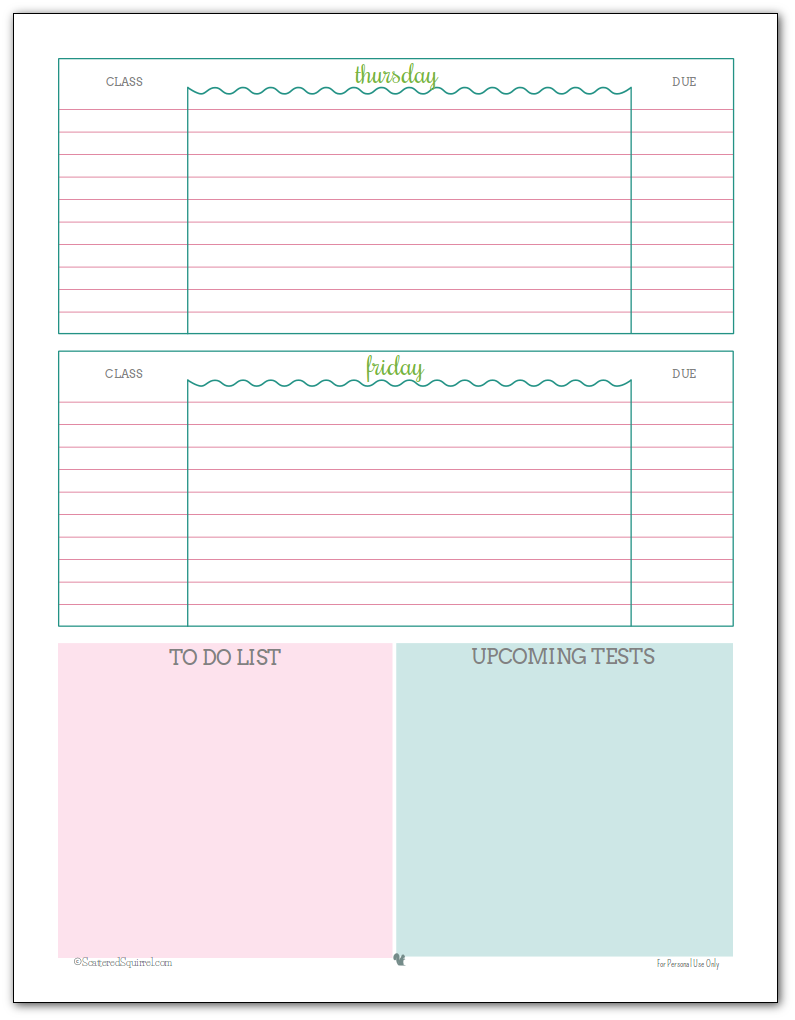 The school week is spread out over two pages, leaving plenty of room to jot down homework each day.  Each weekday is divided into three columns so that students can keep track of which class the homework or test is for and when it's due.  At the end of the week is room for lists, so students can have a place to keep all that information together.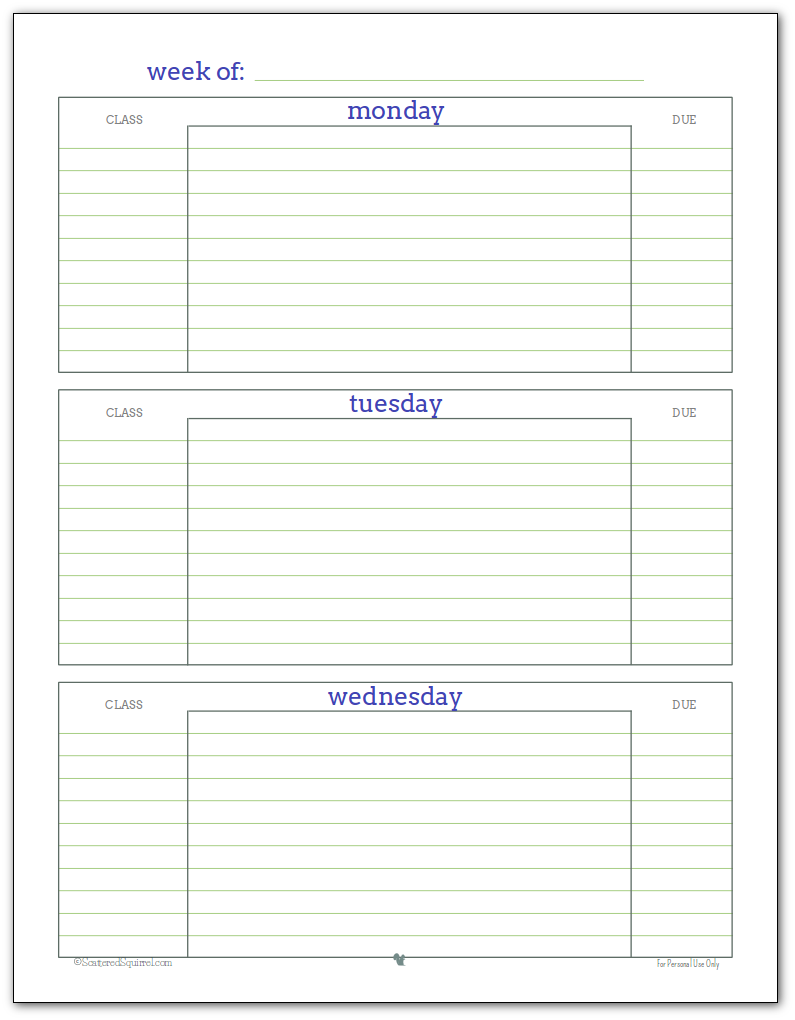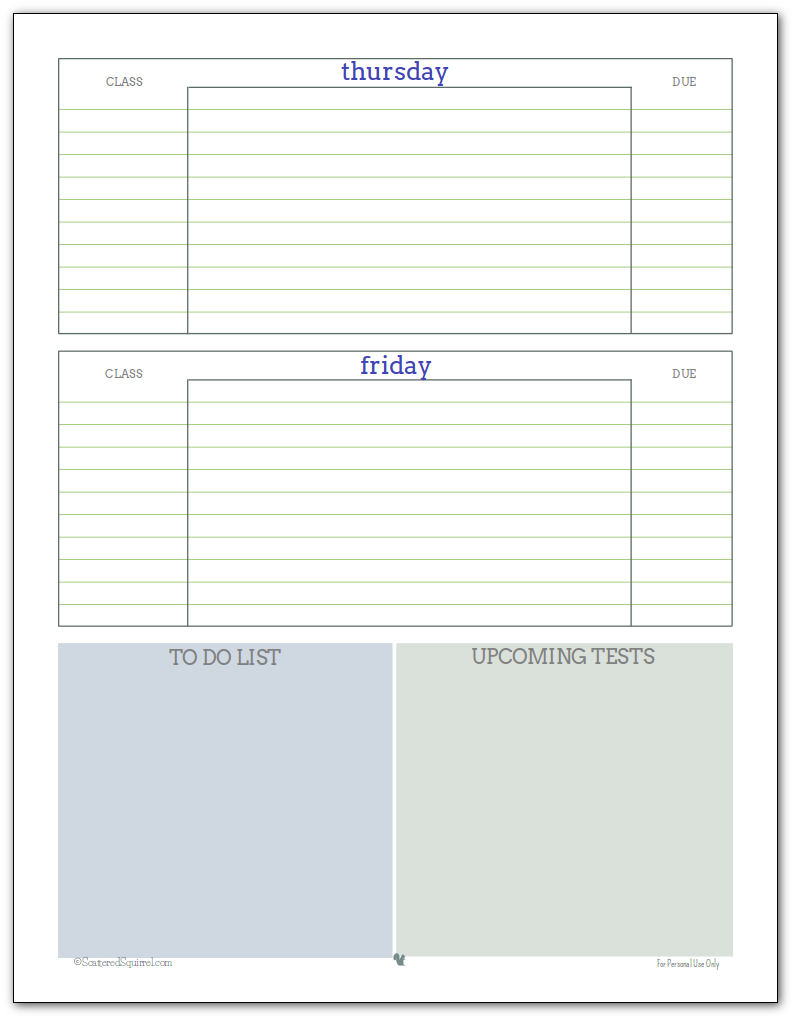 Just like with the original version, I used two different colour schemes.  I have it on good authority that scallops and pink just won't cut it for the boys.
Homework/Project Planner Printables
For many students, a simple weekly planner is all they need.  For others, they might want to add in a few more components.  The homework planner is a great one to have on hand for those larger homework projects.  It allows students to keep track of important information for the project and gives room to record the criteria the teacher wants to be met.  It also, and this is the important part, allows a student to break a large project down into smaller, easy to manage steps.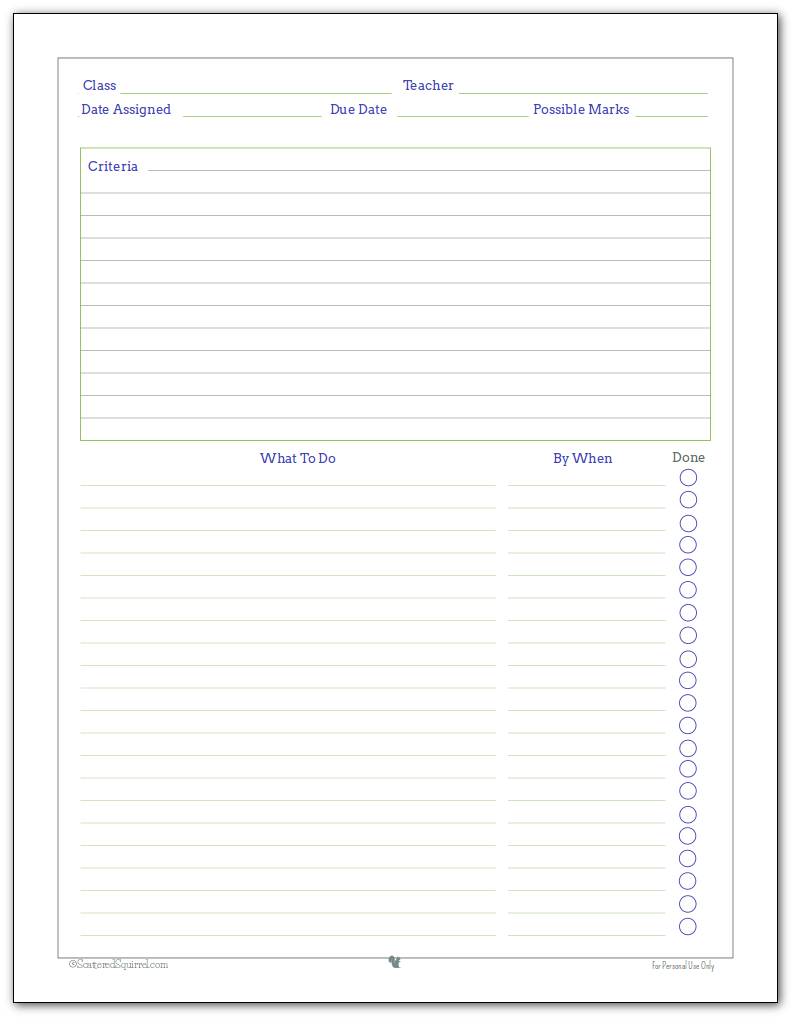 Sometimes the assignments a student is given can be a little overwhelming, but with a planner printable like this one that overwhelming project can be broken up into smaller steps making it feel much more attainable.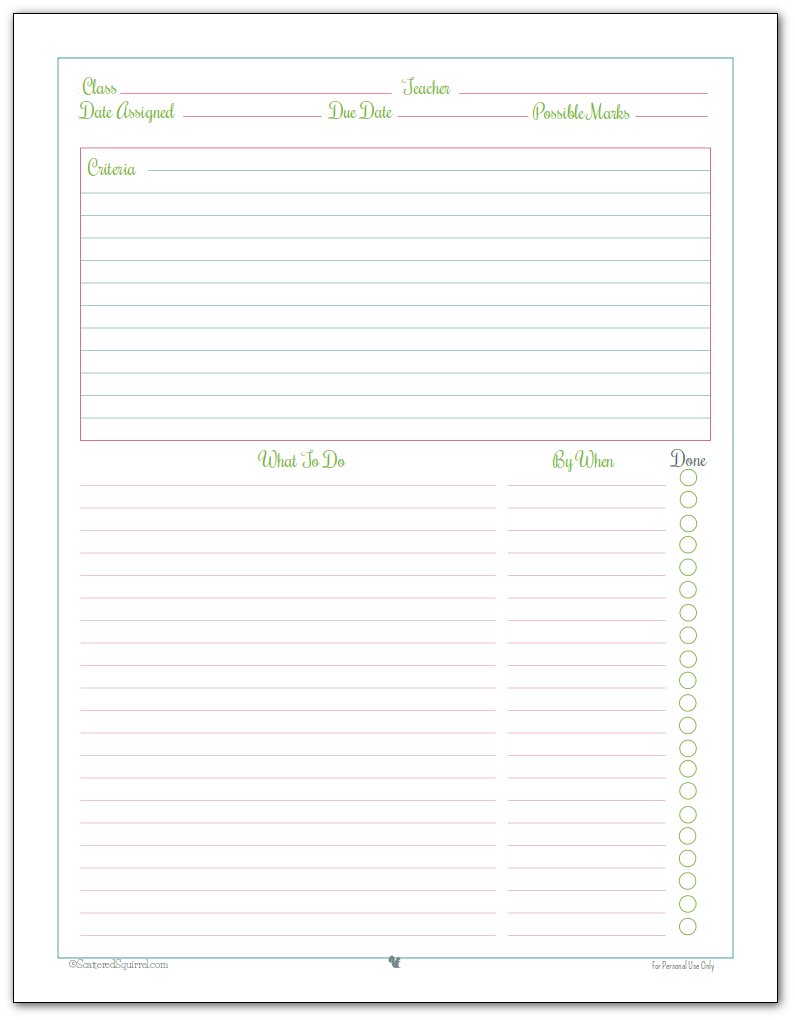 Just like with the student planners above, these homework planners were originally created at the request of one of my lovely readers.  I didn't change them at all, except for the colours and the fonts to make them match the weekly planners.  And of course, I couldn't resist making them into half-size versions as well.
One side for the important information, the other for breaking down the project into manageable steps.
I'm sure there is much more I could have included on these, but again I didn't want to make them overly complicated.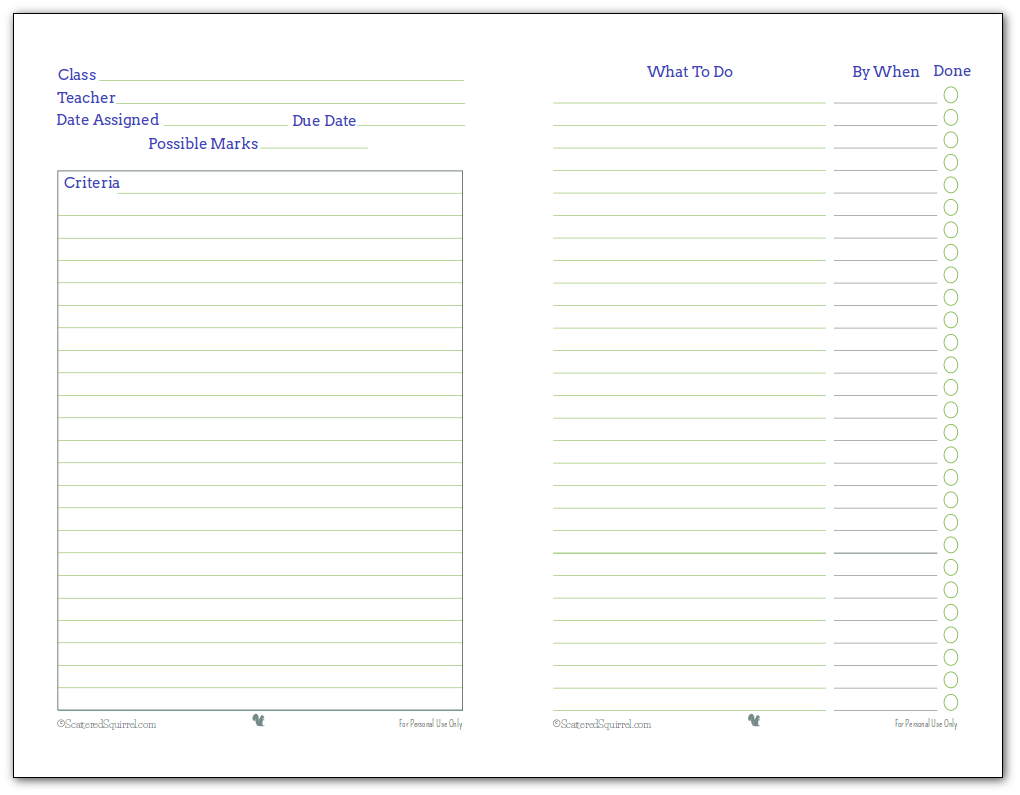 As always, to grab a copy of these printables for yourself, simply click the pictures.  I'd love to hear what you think of these.  Do you think your kiddos would get some use from them?  Drop me a line in the comments below and let me know.
More Back to School Reads From Some of My Blogging Friends
Brain Power Boy has this awesome Tech Gear Guide for Homeschool Boys.  Even if you don't homeschool, even if you're not thinking about back to school, this is a must read.  So much tech goodness, you don't want to miss it.  Personally, I love the fact that LEGO has gone tech.  (did you know that?  I didn't!  Sooo cool!!!!)
The Super Mommy Club has your back when it comes to school lunches with this great post sharing One Whole Month of School Lunch Ideas with NO repeats!!!  She's done such a great job, you don't even need to think about what to pack for a whole month!!!  I dread coming up with lunch ideas, so this post is a huge live saver for me!
Over on Child Led Life, they have this fantastic post about setting up a Homeschool Classroom.  I've used this as a guide for organizing our youngest's room and craft space and we've had some amazing results.