Getting started can often be difficult. Even professional writers say that the hardest part of writing is the beginning. Writing an introduction to an essay can therefore seem a daunting task, though it need not be so difficult, as long as you understand the purpose and the structure of the introduction. An example essay has been given to help you understand both of these, and there is a checklist at the end which you can use for editing your introduction.
Purpose of the introduction
When writing an introduction to an academic essay, it is useful to remember the main purpose of the introduction. In general, the introduction will introduce the topic to the reader by stating what the topic is and giving some general background information. This will help the reader to understand what you are writing about, and show why the topic is important. The introduction should also give the overall plan of the essay.
In short, the main purpose of the introduction is to:
This last purpose is perhaps the most important, and is the reason why many writers choose to write the introduction last, after they have written the main body, because they need to know what the essay will contain before they can give a clear plan.
Structure of the introduction
Although essays vary in length and content, most essays will have the same overall structure, including the introduction. The structure is related to the purpose mentioned above. The introduction to an essay should have the following two parts:
General statements
The general statements will introduce the topic of the essay and give background information. The background information for a short essay will generally just be one or two sentences. The general statements should become more and more specific as the introduction progresses, leading the reader into the essay (some writers talk about "attracting the readers' attention", though for an academic essay, this is less important). For longer essays, the general statements could include one or more definitions, or could classify the topic, and may cover more than one paragraph.
The following is an example of background statements for a short essay (given below):
Although they were invented almost a hundred years ago, for decades cars were only owned by the rich. Since the 60s and 70s they have become increasingly affordable, and now most families in developed nations, and a growing number in developing countries, own a car.
These sentences introduce the topic of the essay (cars) and give some background to this topic (situation in the past, the situation now). These sentences lead nicely into the thesis statement (see below).
Thesis statement
The thesis statement is the most important part of the introduction. It gives the reader clear information about the content of the essay, which will help them to understand the essay more easily. The thesis states the specific topic, and often lists the main (controlling) ideas that will be discussed in the main body. It may also indicate how the essay will be organised, e.g. in chronological order, order of importance, advantages/disadvantages, cause/effect. It is usually at the end of the introduction, and is usually (but not always) one sentence long.
In short, the thesis statement:
Here is an example of a thesis statement with no subtopics mentioned:
While cars have undoubted advantages, they also have significant drawbacks.
This thesis statement tells us the specific topic of the essay (advantages and disadvantages of cars) and the method of organisation (advantages should come first, disadvantages second). It is, however, quite general, and may have been written before the writer had completed the essay.
In the following thesis statement, the subtopics are named:
While cars have undoubted advantages, of which their convenience is the most apparent, they have significant drawbacks, most notably pollution and traffic problems.
This thesis gives us more detail, telling us not just the topic (advantages and disadvantages of cars) and the method of organisation (advantages first, disadvantages second), but also tells us the main ideas in the essay (convenience, pollution, traffic problems). This essay will probably have three paragraphs in the main body.
Example essay
Below is a discussion essay which looks at the advantages and disadvantages of car ownership. This essay is used throughout the essay writing section to help you understand different aspects of essay writing. Here it focuses on the thesis statement and general statements of the introduction (mentioned on this page), topic sentences, controlling ideas, and the summary and final comment of the conclusion. Click on the different areas (in the shaded boxes to the right) to highlight the different structural aspects in this essay.
General
statements

Thesis
statement

Topic
sentences

Controlling ideas

1

2

3

1

2

3

Summary

Final
comment
Although they were invented almost a hundred years ago, for decades cars were only owned by the rich. Since the 60s and 70s they have become increasingly affordable, and now most families in developed nations, and a growing number in developing countries, own a car. While cars have undoubted advantages, of which their convenience is the most apparent, they have significant drawbacks, most notably pollution and traffic problems.

The most striking advantage of the car is its convenience. When travelling long distance, there may be only one choice of bus or train per day, which may be at an unsuitable time. The car, however, allows people to travel at any time they wish, and to almost any destination they choose.

Despite this advantage, cars have many significant disadvantages, the most important of which is the pollution they cause. Almost all cars run either on petrol or diesel fuel, both of which are fossil fuels. Burning these fuels causes the car to emit serious pollutants, such as carbon dioxide, carbon monoxide, and nitrous oxide. Not only are these gases harmful for health, causing respiratory disease and other illnesses, they also contribute to global warming, an increasing problem in the modern world. According to the Union of Concerned Scientists (2013), transportation in the US accounts for 30% of all carbon dioxide production in that country, with 60% of these emissions coming from cars and small trucks. In short, pollution is a major drawback of cars.

A further disadvantage is the traffic problems that they cause in many cities and towns of the world. While car ownership is increasing in almost all countries of the world, especially in developing countries, the amount of available roadway in cities is not increasing at an equal pace. This can lead to traffic congestion, in particular during the morning and evening rush hour. In some cities, this congestion can be severe, and delays of several hours can be a common occurrence. Such congestion can also affect those people who travel out of cities at the weekend. Spending hours sitting in an idle car means that this form of transport can in fact be less convenient than trains or aeroplanes or other forms of public transport.

In conclusion, while the car is advantageous for its convenience, it has some important disadvantages, in particular the pollution it causes and the rise of traffic jams. If countries can invest in the development of technology for green fuels, and if car owners can think of alternatives such as car sharing, then some of these problems can be lessened.
Union of Concerned Scientists (2013). Car Emissions and Global Warming.www.ucsusa.org/clean vehicles/why-clean-cars/global-warming/ (Access date: 8 August, 2013)
General
statements

Thesis
statement

Topic
sentences

1

2

3

Controlling ideas

1

2

3

Summary

Final
comment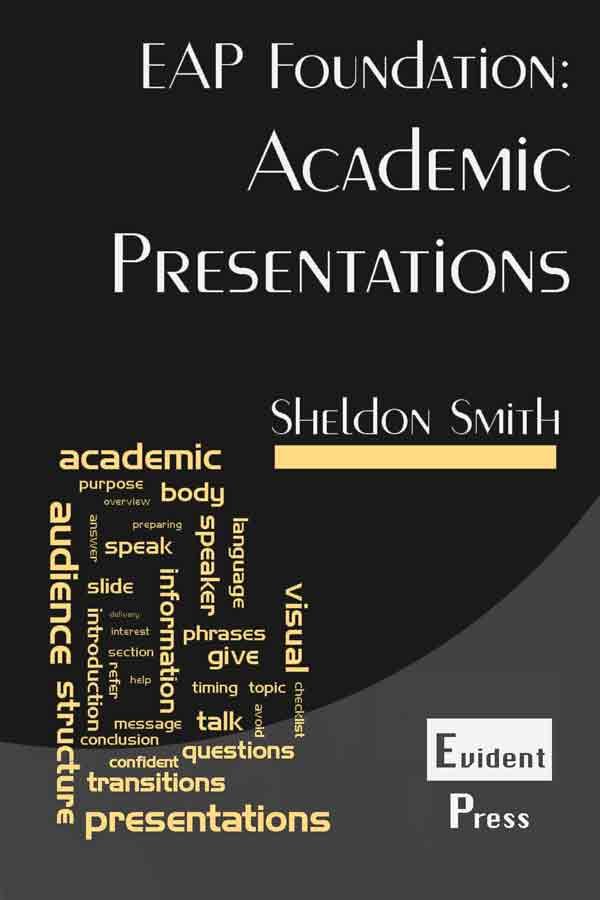 GET A FREE SAMPLE
Like the website? Try the book. Enter your email to receive a free sample from the recently published title, EAP Foundation: Academic Presentations.
Checklist
Below is a checklist for an essay introduction. Use it to check your own writing, or get a peer (another student) to help you.
Item
OK?
Comment
The essay begins with general statements, which introduce the topic
The introduction ends with a thesis statement
The thesis shows the main ideas of the essay
The thesis shows how the essay will be organised (e.g. chronological, compare/contrast, advantages/disadvantages)
Next section
Find out how to structure the main body of an essay in the next section.
Previous section
Go back to the previous section about essay structure.
Since the dawn of man, writing has been used to communicate ideas. In academic settings, ideas are typically communicated using formal types of writing such as essays. Most academic essays contain an introductory paragraph, which includes a thesis.
The Oxford English Dictionary defines an introduction as, "A preliminary explanation prefixed to or included in a book or other writing; the part of a book which leads up to the subject treated, or explains the author's design or purpose. Also, the corresponding part of a speech, lecture, etc."
Michigan State University student Sally used to have a lot of difficulty writing introductions. Once she had suffered through writing dozens of painful introductions, she decided to look up some tips on how to introduce your essay, and after that she got a lot better.
Introductions can be tricky. Because the introduction is the first portion of your essay that the reader encounters, the stakes are fairly high for your introduction to be successful. A good introduction presents a broad overview of your topic and your thesis, and should convince the reader that it is worth their time to actually read the rest of your essay. Below are some tips that will make writing an introduction a little less daunting, and help us all to write essays that don't make our professors want to bang their heads against the wall.
Start your introduction broad, but not too broad. When I first started writing formal essays, I didn't really know how broad to go with my intros. A brief paragraph on Hamlet would suddenly include irrelevant details about Shakespeare's childhood, then grow out to be a history of Western literature, and then a history of the universe itself. Do not write an introduction like this; this kind of intro is confusing and makes the reader wonder where exactly you're going with your essay.Your introduction should provide the reader with a sense of what they should expect out of your essay, not to expound upon every piece of knowledge ever developed by man. Go ahead and start relatively broad, then narrow to your thesis, but make sure you're still on topic.
Provide relevant background, but don't begin your true argument. It's fine to give a bit of context to your essay in the introduction, but the real meat of your argument should be located in your body paragraphs. A good test to see if information should go in a body or introductory paragraph is to ask yourself a few questions. Is this providing context or evidence? Does this introduce my argument, or try to prove it? True evidence or proof deserves a body paragraph. Context and background most likely belong in your introduction.
Provide a thesis. The majority of the time, your thesis, or main argument, should occur somewhere towards the end of your introduction. It is a typical convention to put your thesis as the last sentence of your first paragraph. My personal opinion is that it can sometimes be awkward to shove your thesis in one specific place if it doesn't necessarily fit, but if your thesis works in that position, that is the best place for it. That being said, if you absolutely can't include your thesis in that location, go ahead and stick it somewhere else.
Provide only helpful, relevant information. Anecdotes can be an interesting opener to your essay, but only if the anecdote in question is truly relevant to your topic. Are you writing an essay about Maya Angelou? An anecdote about her childhood might be relevant, and even charming. Are you writing an essay about safety regulations in roller coasters? Go ahead and add an anecdote about a person who was injured while riding a roller coaster. Are you writing an essay about Moby Dick? Perhaps an anecdote about that time your friend read Moby Dick and hated it is not the best way to go. The same is true for statistics, quotes, and other types of information about your topic.
Try to avoid clichés. Some types of introductions may have once been successful, but have been used so often that they have become tired and clichéd. Starting your essay with a definition is a good example of one of these conventions. At this point, starting with a definition is a bit boring, and will cause your reader to tune out.
Don't feel pressured to write your intro first. Sometimes it can be difficult to figure out exactly what information is relevant to your introduction until you've written the piece itself. Personally, I find that my writer's block is always strongest when writing the introduction. If you are having trouble with your intro, feel free to write some, or all, of your body paragraphs, and then come back to it. You might find it a bit easier to write your introduction once you're more comfortable with the essay as a whole.
Convince the reader that your essay is worth reading. Your reader should finish the introduction thinking that the essay is interesting or has some sort of relevance to their lives. A good introduction is engaging; it gets the audience thinking about the topic at hand and wondering how you will be proving your argument. Good ways to convince your reader that your essay is worthwhile is to provide information that the reader might question or disagree with. Once they are thinking about the topic, and wondering why you hold your position, they are more likely to be engaged in the rest of the essay.
Basically, a good introduction provides the reader with a brief overview of your topic and an explanation of your thesis. A good introduction is fresh, engaging, and interesting. Successful introductions don't rely on clichés or irrelevant information to demonstrate their point. Be brief, be concise, be engaging. Good luck.
Related